Cricket, often considered a gentleman's game, combines skill, strategy, and athleticism. However, like any other sport, it carries inherent risks that can lead to severe injuries. From fractures to concussions, players have encountered various incidents that have left lasting impacts on their careers and lives.
In this article, we explore some of the worst cricket injuries in history, shedding light on the physical toll the game can take. Join us as we delve into the stories of players who have endured the most harrowing injuries and analyze the impact on their careers and the sport as a whole.
Philip Hughes: Fatal Blow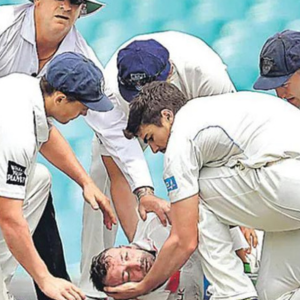 The tragic incident involving Australian cricketer Philip Hughes shocked the cricketing world in 2014. While batting in a domestic match, Hughes was struck by a bouncer that hit the back of his neck, causing a severe head injury. Despite receiving immediate medical attention, he succumbed to his injuries two days later.
The incident led to an outpouring of grief and highlighted the importance of player safety, prompting changes in helmet design and guidelines for short-pitched bowling.
Also Read: Top 5 Individual T20I Innings All Time
Anil Kumble: Jaw Fracture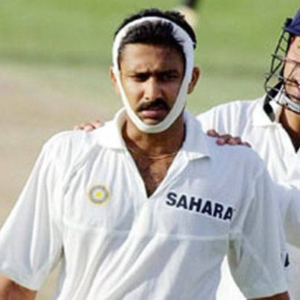 In 2002, Indian cricketer Anil Kumble suffered a devastating injury during a Test match against West Indies. While attempting to execute a bouncer, the ball struck Kumble on the face, fracturing his jaw. The injury required surgery and forced him to miss several matches.
Kumble's determination and resilience allowed him to make a successful comeback, but the incident underscored the risks faced by bowlers in particular and emphasized the need for protective gear and improved safety measures.
Mark Boucher: Eye Injury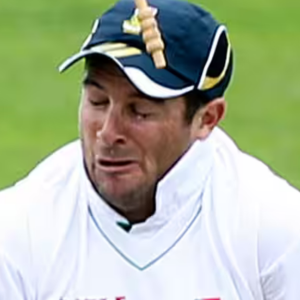 South African wicketkeeper Mark Boucher's career came to an abrupt end due to a horrific eye injury in 2012. During a tour match in England, a bail dislodged by a fast delivery struck Boucher in the eye, causing a laceration to his retina.
The injury required immediate surgery and forced him into retirement. Boucher's injury raised awareness about eye protection for players and prompted manufacturers to develop better protective gear for wicketkeeper.
Also Read: Top 5 Best ODI Bowling Spell Of All Time
Ewen Chatfield: Collapsed Lung
New Zealand fast bowler Ewen Chatfield suffered a life-threatening injury during a Test match against England in 1975. Chatfield was struck on the temple by a bouncer, causing him to collapse and stop breathing. He was resuscitated on the field and rushed to the hospital, where it was discovered that he had suffered a collapsed lung. The incident sparked discussions on player safety and the need for stringent medical protocols in cricket.
Craig Kieswetter: Eye Injury
English cricketer Craig Kieswetter's promising career was cut short due to a severe eye injury in 2014. While playing in a county match, a ball struck Kieswetter's eye socket, resulting in significant damage to his vision. Despite multiple surgeries and rehabilitation efforts, Kieswetter was unable to make a full recovery, forcing him to retire from professional cricket. His injury brought attention to the vulnerability of batsmen and the need for enhanced eye protection.
Also Read: Biggest controversies in cricket history
Nari Contractor: Skull Fracture
Indian cricketer Nari Contractor suffered a severe head injury during a Test match against the West Indies in 1962. A bouncer from Charlie Griffith struck him on the head, causing a fractured skull and a life-threatening cerebral hemorrhage. Contractor underwent multiple surgeries and was in a critical condition for several days. Although he survived, the injury effectively ended his international cricket career. This incident prompted a reevaluation of player safety and led to the introduction of helmets as a mandatory protective gear for batsmen.
Brett Lee: Stress Fracture
Australian fast bowler Brett Lee encountered a career-threatening injury in 2002 when he suffered a stress fracture in his lower back. The injury forced him to miss several matches and undergo an extensive rehabilitation period. Stress fractures are common among fast bowlers due to the repetitive impact on their bodies. Lee's injury shed light on the physical demands of fast bowling and the importance of managing workload and maintaining adequate rest periods to prevent such injuries.
Also Read: Why Cricket Lags Behind Football in Global Popularity
Shaun Tait: Stress Fracture
Australian cricketer Shaun Tait, known for his express pace, faced a similar fate as Brett Lee when he sustained a stress fracture in his bowling elbow in 2008. The injury forced him to take a break from international cricket and undergo a lengthy recovery process. The incident emphasized the toll that extreme bowling speeds can take on a player's body and raised questions about the long-term sustainability of such fast bowling techniques.
Craig Spearman: Eye Injury
New Zealand cricketer Craig Spearman suffered a serious eye injury during a Test match against South Africa in 2004. While fielding at short leg, Spearman was hit directly in the eye by a powerful sweep shot played by Herschelle Gibbs. The impact caused significant damage to his eye, resulting in a retinal detachment.
Spearman required multiple surgeries and rehabilitation but was unable to regain full vision in his injured eye. The incident highlighted the vulnerability of fielders positioned close to the bat and led to increased awareness of the need for protective gear in such positions.
Also Read: Why is the Australia men's and women's cricket team so good?
Jacob Oram: Back Injury
New Zealand all-rounder Jacob Oram battled a persistent back injury throughout his career. Stress fractures in his back repeatedly hampered his ability to bowl at full capacity and forced him to undergo extensive rehabilitation. Oram's injury shed light on the physical strain placed on fast bowlers' bodies and the challenges they face in maintaining their fitness and performance levels.
Conclusion
Cricket, like any sport, carries inherent risks, and the players featured in this article experienced some of the worst cricket injuries imaginable. These incidents highlight the physical toll and potential dangers associated with the game. While stringent safety measures, improved protective gear, and medical advancements have helped minimize risks, the possibility of injuries remains.
The stories of these players serve as a reminder of the need for continued emphasis on player safety, the development of better protective equipment, and the implementation of stricter safety protocols. Through these efforts, cricket can strive to strike a balance between the thrill of the game and the well-being of its players.