We Will Publish Every Month Prediction Report In The End Of Every Month. By Examine This List You Can Judge How Much We Are Reliable?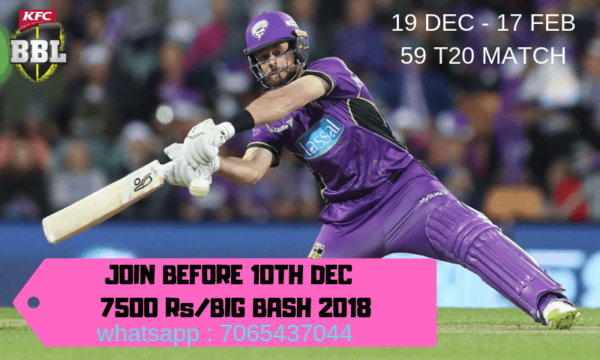 NOVEMBER MONTH PREDICTION LIST :
Website Free Report  : In 80 Match Report, Only 19 Prediction Goes Wrong = 76.25% .
Whatsapp Paid Report : In 90 Match Report, Only 12 Prediction Goes Wrong = 86.66%.
( If You Want More Accurate And Perfect Prediction In Your Mobile, Join Our Membership). Those Who Want To Join Our Paid Membership Can Join Us @2500 Rs/Match & @15000/Month. Whatsapp At 7065437044
| | | | |
| --- | --- | --- | --- |
| Match | Date | Cricketwebs | Match Results |
| India vs West Indies | 01-Nov-18 | India | India |
| Pakistan vs New Zealand | 02-Nov-18 | Pakistan | Pakistan |
| Bangladesh vs Zimbabwe | 03-Nov-18 | Bangladesh | Zimbabwe |
| Australia vs South Africa | 04-Nov-18 | South Africa | South Africa |
| India vs West Indies | 04-Nov-18 | India | India |
| Pakistan vs New Zealand | 04-Nov-18 | Pakistan | Pakistan |
| England vs Sri Lanka | 06-Nov-18 | Sri Lanka or Draw | England |
| India vs West Indies | 06-Nov-18 | India | India |
| Pakistan vs New Zealand | 07-Nov-18 | New Zealand | New Zealand |
| Australia vs South Africa | 09-Nov-18 | Australia | Australia |
| Pakistan vs New Zealand | 09-Nov-18 | Pakistan | Pakistan |
| New Zealand Women vs India Women | 09-Nov-18 | India | India |
| Australia Women vs Pakistan Women | 09-Nov-18 | Australia | Australia |
| Windies Women vs Bangladesh Women | 09-Nov-18 | Windies | Windies |
| England Women vs Sri Lanka Women | 10-Nov-18 | England | No Result |
| India vs West Indies | 11-Nov-18 | India | India |
| Australia vs South Africa | 11-Nov-18 | Australia | South Africa |
| Pakistan vs New Zealand | 11-Nov-18 | Pakistan | No Result |
| India Women vs Pakistan Women | 11-Nov-18 | India | India |
| Australia Women vs Ireland Women | 11-Nov-18 | Australia | Australia |
| England Women vs Bangladesh Women | 12-Nov-18 | England | England |
| Sri Lanka Women vs South Africa Women | 12-Nov-18 | South Africa | South Africa |
| Pakistan Women vs Ireland Women | 13-Nov-18 | Pakistan | Pakistan |
| Australia Women vs New Zealand | 13-Nov-18 | New Zealand | Australia |
| Sri Lanka Women vs Bangladesh Women | 14-Nov-18 | Sri Lanka | Sri Lanka |
| West Indies Women vs South Africa Women | 14-Nov-18 | West Indies | West Indies |
| India Women vs Ireland Women | 15-Nov-18 | India | India |
| New Zealand Women vs Pakistan Women | 15-Nov-18 | New Zealand | New Zealand |
| England Women vs South Africa Women | 16-Nov-18 | England | England |
| Windies Women vs Sri Lanka Women | 16-Nov-18 | Windies | Windies |
| Cape Town Blitz vs Tshwane Spartans | 16-Nov-18 | Cape Town Blitz | Cape Town Blitz |
| Australia vs South Africa | 17-Nov-18 | Australia | South Africa |
| India Women vs Australia Women | 17-Nov-18 | India | India |
| New Zealand vs Ireland Women | 17-Nov-18 | New Zealand | New Zealand |
| Jozi Stars vs Nelson Mandela Bay Giants | 17-Nov-18 | Nelson Mandela | Nelson Mandela |
| Windies Women vs England Women | 18-Nov-18 | England | Windies |
| South Africa Women vs Bangladesh Women | 18-Nov-18 | South Africa | South Africa |
| Durban Heat vs Cape Town Blitz | 18-Nov-18 | Durban Heat | Cape Town Blitz |
| Paarl Rocks vs Tshwane Spartans | 18-Nov-18 | Tshwane Spartans | Tshwane Spartans |
| Paarl Rocks vs Jozi Stars | 20-Nov-18 | Jozi Stars | Jozi Stars |
| India vs Australia | 21-Nov-18 | India | Australia |
| Sindhis vs Rajputs | 21-Nov-18 | Rajputs | Rajputs |
| Kerala Knights vs Pakhtoons | 21-Nov-18 | Kerala Knights | Kerala Knights |
| Durban Heat vs Tshwane Spartans | 21-Nov-18 | Tshwane Spartans | Durban Heats |
| Cape Town Blitz vs Nelson Mandela Bay Giants | 21-Nov-18 | Cape Town Blitz | Cape Town Blitz |
| Australia Women vs Windies Women | 22-Nov-18 | Windies | Australia |
| India Women vs England Women | 22-Nov-18 | India | No Result |
| Bengal Tigers vs Northern Warriors | 22-Nov-18 | Northern Warriors | Bengal Tigers |
| Sindhis vs Kerala Knights | 22-Nov-18 | Sindhis | Sindhis |
| Maratha Arabians vs Punjabi Legends | 22-Nov-18 | Punjabi Legends | Punjabi Legends |
| Rajput vs Pakhtoons | 23-Nov-18 | Rajputs | Pakhtoons |
| Bengali Tigers vs Maratha Arabians | 23-Nov-18 | Maratha Arabians | Maratha Arabians |
| Durban Heat vs Nelson Mandela Bay Giants | 23-Nov-18 | Nelson Mandela | Nelson Mandela |
| Northern Warriors vs Punjabi Legends | 23-Nov-18 | Punjabi Legends | Northern Warriors |
| England Women vs Australia Women | 24-Nov-18 | Australia | Australia |
| Jozi Stars vs Cape Town Blitz | 24-Nov-18 | Cape Town Blitz | Cape Town Blitz |
| Sindhi vs Pakhtoons | 24-Nov-18 | Sindhis | Pakhtoons |
| Bengal Tigers vs Punjabi Legends | 24-Nov-18 | Bengal Tigers | Bengal Tigers |
| India vs Australia | 25-Nov-18 | India | India |
| Tshwane Spartans vs Nelson Mandela Bay Giants | 25-Nov-18 | Nelson Mandela | Nelson Mandela |
| Paarl Rocks vs Cape Town Blitz | 25-Nov-18 | Cape Town Blitz | Paarl Rocks |
| Kerala Knights vs Rajputs | 25-Nov-18 | Kerala Knights | No Result |
| Maratha Arabians vs Northern Warriors | 25-Nov-18 | Northern Warriors | Northern Warriors |
| Pakhtoons vs Bengal Tigers | 26-Nov-18 | Bengal Tigers | Pakhtoons |
| Kerala Knights vs Punjab Legends | 26-Nov-18 | Kerala Knights | Punjabi Legends |
| Nelson Mandela Bay Giants vs Cape Town Blitz | 27-Nov-18 | Cape Town Blitz | No Result |
| Rajputs vs Maratha Arabians | 27-Nov-18 | Rajputs | Maratha Arabians |
| Sindhis vs Northern Warriors | 27-Nov-18 | Northern Warriors | Northern Warriors |
| Tshwane Spartans vs Jozi Stars | 28-Nov-18 | Tshwane Spartans | Tshwane Spartans |
| Durban Heat vs Paarl Rocks | 28-Nov-18 | Durban Heat | Paarl Rocks |
| Rajputs vs Punjabi Legends | 28-Nov-18 | Rajputs | Rajputs |
| Pakhtoons vs Maratha Arabians | 28-Nov-18 | Pakhtoons | Pakhtoons |
| Kerala Knights vs Northern Warriors | 29-Nov-18 | Northern Warriors | Northern Warriors |
| Sindhis vs Bengal Tigers | 29-Nov-18 | Bengal Tigers | Bengal Tigers |
| Pakhtoons vs Punjabi Legends | 29-Nov-18 | Pakhtoons | Punjabi Legends |
| Nelson Mandela Bay Giants vs Paarl Rocks | 30-Nov-18 | Nelson Mandela | Nelson Mandela |
| Durban Heat vs Jozi Stars | 30-Nov-18 | Durban Heat | Jozi Stars |
| Kerala Knights vs Bengal Tigers | 30-Nov-18 | Bengal Tigers | Kerala Knights |
| Rajputs vs Northern Warriors | 30-Nov-18 | Northern Warriors | Northern Warriors |
| Sindhis vs Maratha Arabians | 30-Nov-18 | Maratha Arabians | Maratha Arabians |
( If You Want More Accurate And Perfect Prediction In Your Mobile, Join Our Membership). Those Who Want To Join Our Paid Membership Can Join Us @2500 Rs/Match & @15000/Month. Whatsapp At 7065437044